GTC celebrates 10 years of presence on the Bulgarian market with a 60-million-euro investment in an innovative business center
18.10.2017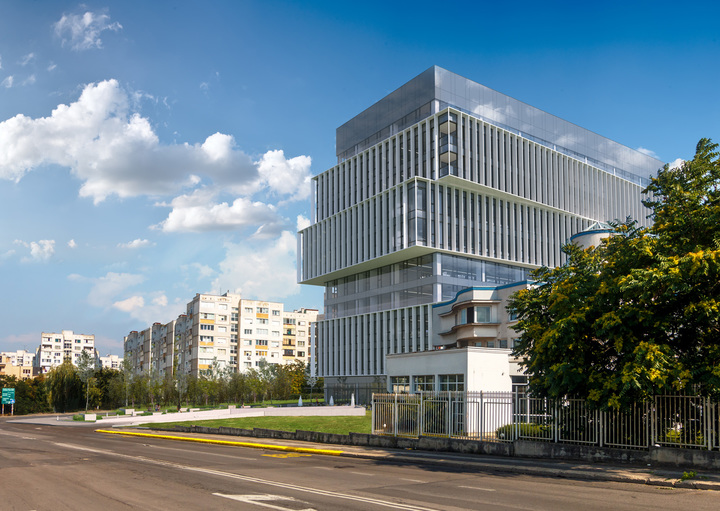 In 2017 the polish group GTC celebrates 10 years of its successful presence on the Bulgarian real estate market with the official launch of the Advance Business Center. The value of the planned investment is 60 million euros. Advance Business Center is located at the very entrance of Business Park Sofia, an area that is already a traditional home of large business companies, and will offer 32,000 sq. m of Class A office spaces. One of the main advantages of the project is the location, with its immediate proximity to Business Park Sofia. The location also provides a quick transport via metro (at about 50 meters away from Advanced Business Center is the Business Park metro station), as well as direct access to the Sofia Ring Road, which provides fast connections both to public transport and with private cars.
The Advance Business Center is implemented in two phases, which will be completed in two periods in 2019. The first phase includes the construction of an office building, which has 15 000 sq. m of first-class offices located on 9 floors as well as 270 underground parking places. The office part provides excellent work conditions for more than 5,000 professionals, of course the areas are flexible enough to meet the specifics of any business. In addition to the "green" lobby, workers will also enjoy 2 large terraces on floors 3 and floor 9 which completes the green natural environment of the Advanced Business Center. In the second phase there are 17 000 square meters of office spaces on 11 floors and 304 underground parking spaces.
"Through the implementation of Advance Business Center, GTC introduces modern architectural design, innovative engineering and new property management to the Bulgarian market in order for businesses that find their new home in it to have an inspiring work environment that increases the productivity, well-being and creativity of their employees." commented Thomas Curzman, CEO of the GTC Group. Along with its excellent location, exclusive architecture and cutting-edge technology, Advance Business Center offers large spaces - 1,700 square meters each floor and outdoor layout, allowing flexible and easy rearrangement of offices to suit every tenant's requirement.
Following leading european trends for sustainable office building, Advance Business Center is in process of certification with a LEED Gold Green certificate, which is providing added value to its potential occupants through higher energy efficiency and lower operating costs per workspace . Parking for bikes and electric cars, as well as specially designed green areas around the building and the terraces, are among the other amenities for future employees.
"From our long experience, we know that it is not enough just to build a remarkable architectural design of office buildings, but of utmost importance is the impeccable maintenance and additional services that we offer to the tenants. Our goal is to create a modern project which is capable of meeting the demands of the tenants and the lifestyle of our tenants to inspire them to develop their business potential." added Thomas Curzman.
The concept of the project is made by Gobli Architects and the architectural project belongs to the Planning Architectural Studio. Visitors and staff at the Advance Business Center can make use of on-site amenities including a restaurant and a café as well as a garden for relax. All amenities are designed so that companies that will find their new home in Advance Business Center will provide their employees with a productive environment for achieving high results.
GTC Group is a leading investor in the real estate sector in Poland and three capitals in Central and Eastern Europe. The company operates in Poland, Romania, Hungary, Croatia, Serbia and Bulgaria. The group was established in 1994. Today, GTC manages an active portfolio of 36 retail outlets, providing 614,000 square meters of office and retail space, to its tenants and clients in Poland, Belgrade, Budapest, Bucharest and Zagreb. In addition, GTC has commercial and office buildings in the capitals of Central and Eastern Europe, of which 110,000 square meters are under construction. At the beginning of the year, the company announced its successful sale of two of its main assets in Bulgaria - the shopping centers Mall Galleria Burgas and Mall Galleria Stara Zagora.
source: http://www.investor.bg/